A ring is a delicate & small ornament.
But a ring made with thought and care can contain many meanings, and can symbolize your ways of life and your values.
Project your own life with objects related to work as inspiration. Here is another story of an original, one-of-a-kind ring.
---
Design inspired by vintage eyeglasses
We have tailored a wedding ring with a special hand carving for a stylish couple who love accessories.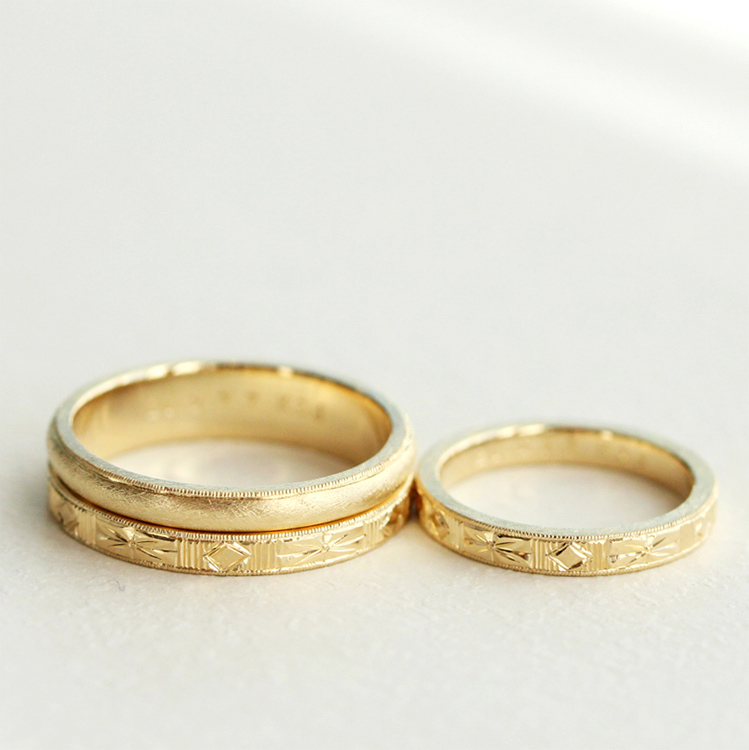 The couple liked rings that have traces of craftsman's handiwork.
They liked ones with hand carved patterns.
As they were trying those rings, He suddenly exclaimed, "Yes!" He started going through his bag, and pulled out a bunch of vintage eyeglasses.
All of these glasses had hand carved details on the frames.
He told us that he owned a vintage eyeglasses shop, and that is how they decided to incorporate eyegalsses' design elements into rings.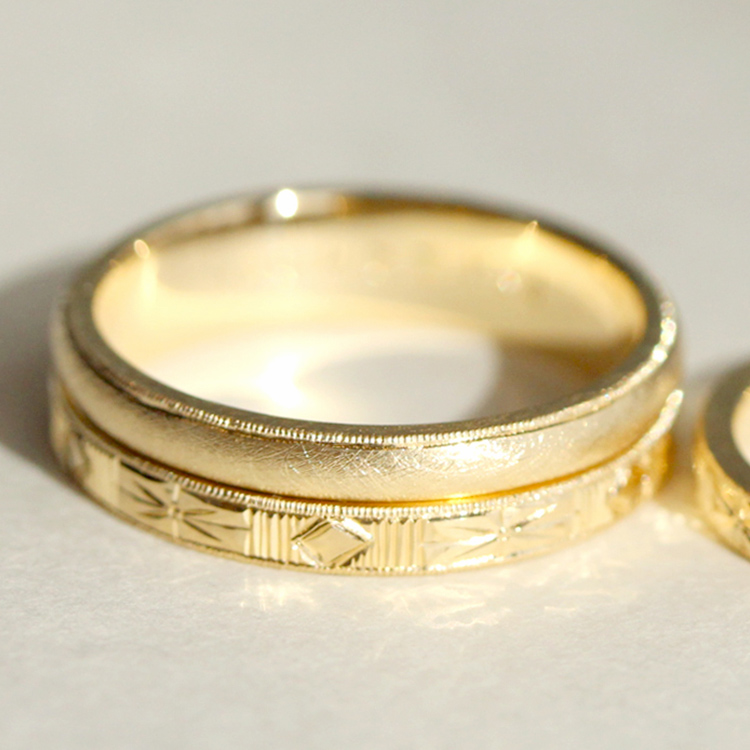 Designing carved patterns with "Japanese carving" techniques.
The couple picked up their favorite engraving patterns from the eyeglasses, which we placed onto the rings to finalize the design.
After a few rounds of design sketches, the final pick was a combination of diamonds, vertical lines, and floral pattern continuouly going around the ring.
We use a carving technique called "Wabori," which uses a chisel and a hammer to carve out a pattern.
The end product seems to be a clean geometric pattern. But each line is not perfectly straight as they are hand carved. The imperfection adds a handiwork look to the rings.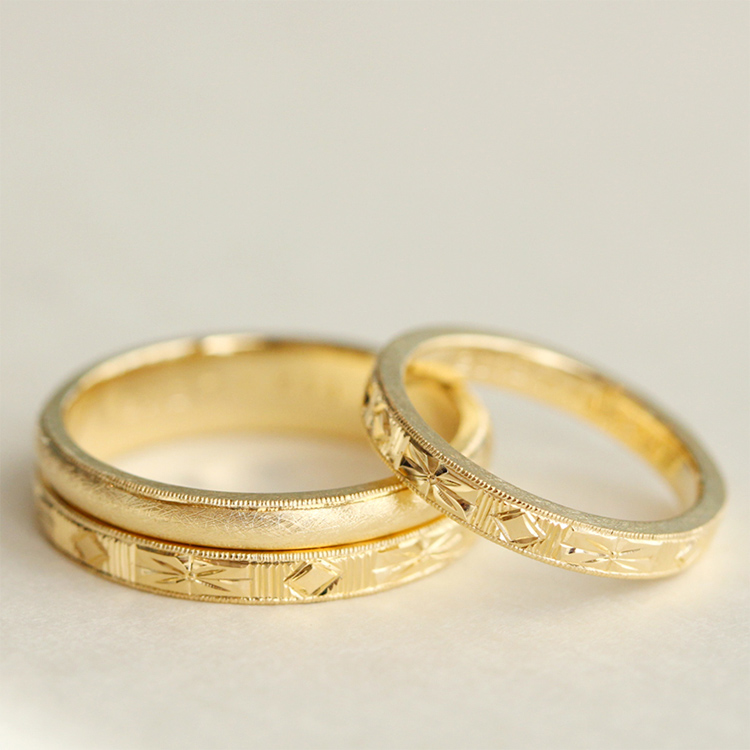 An antique look with milgrain and matte finish
A flat ring with fine, dalicate carved patterns. He did not stop there. He wanted to add another element as vintage lover. A dome ring with matte finish to add an weathered, antique look.
The men's ring was a combination of 2 rings fused into one.
We kept the women's ring thinner than the other one to emphasize the delicacy of the hand carving.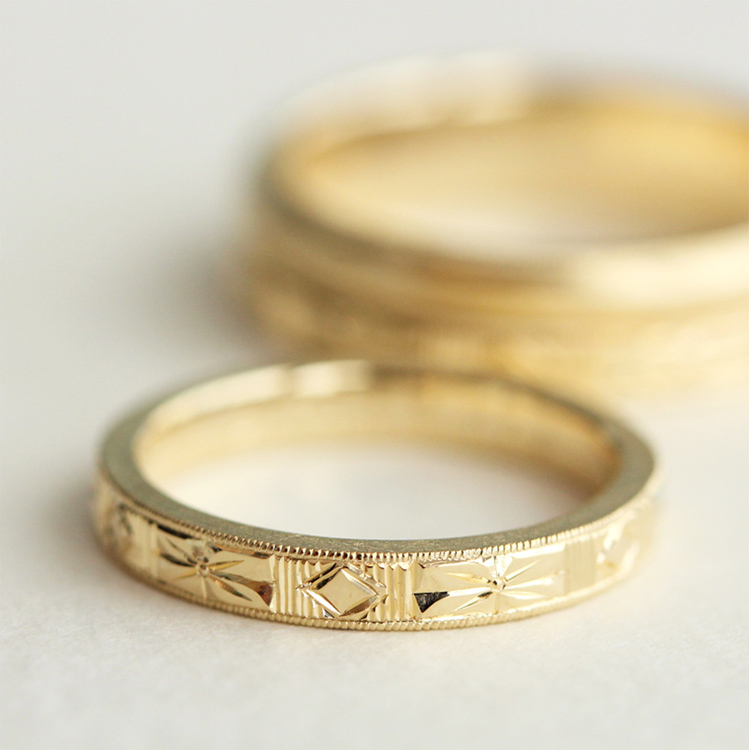 We also applied "milgrain," at the edge of the rings for a more classical look, which the couple was fond of.
"Milgrain" is a decorative technique in which a series of small round grains are worked with a mill chisel.
The milgrain gave the rings a more pronounced edge and a stronger presence.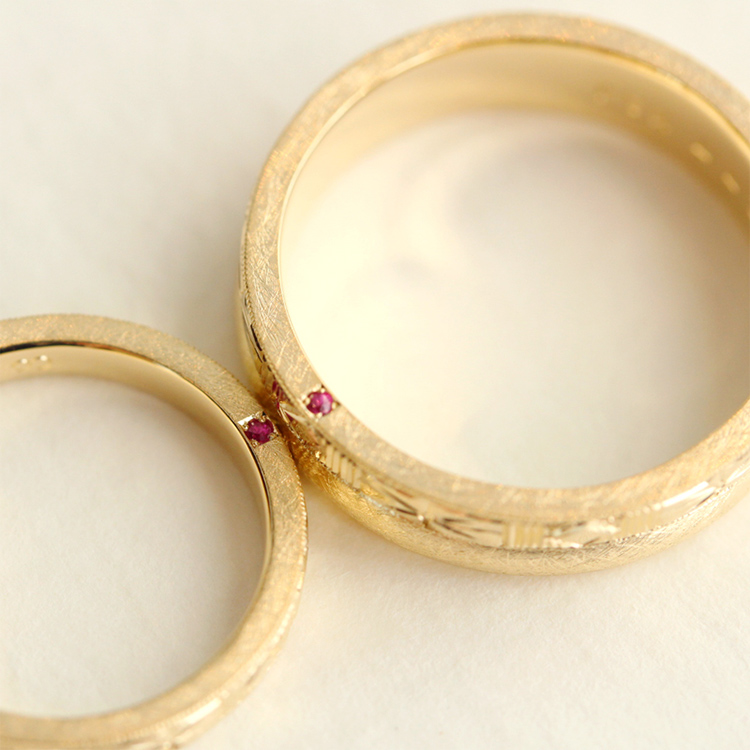 "Inspired by the clients' passion,
the world's one and only wedding ring is now complete."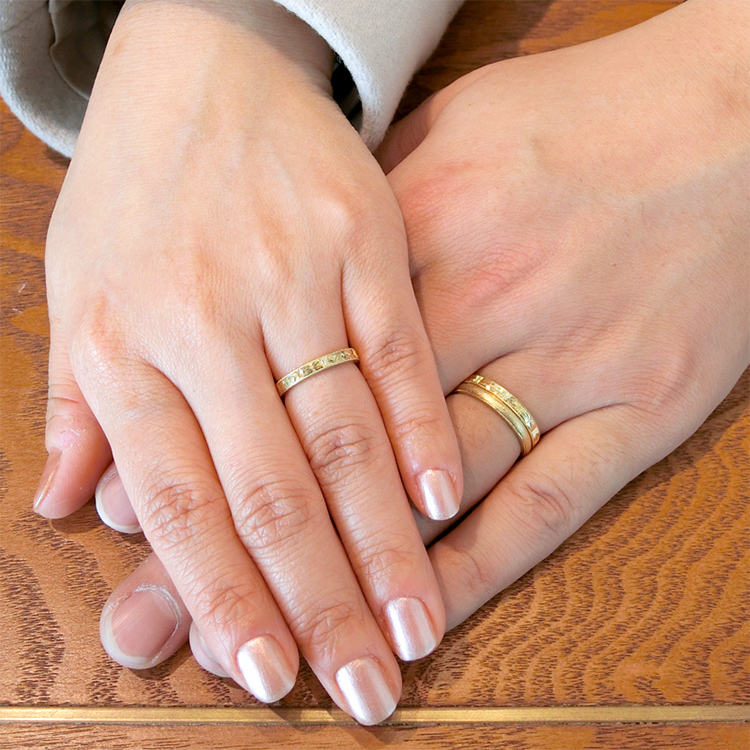 May the rings be symbols of thier bond for years to come.
We would be happy if the time we spent in the atelier working on the design from scratch becomes one of the memories of the two of you.